I visited San Diego a while ago when my kids were young and it never occurred to me that there were wineries in San Diego. Our trip that year included Lego Land, San Diego Zoo and some museums with a stay in the GasLamp District. Had I known there were wineries I'm sure we would have visited at least one of them.
During the month of October last year I got to explore the San Diego winery scene with #winestudio. I had no idea there were so many wineries in the San Diego area. It wasn't until 2010 when a San Diego County ordinance allowed facilities to host public tasting rooms and on site sales. So the boom has been fairly recent. There are 3 AVA's in San Diego County. The South Coast AVA extends from Malibu to the Mexico border, the San Pasqual Valley AVA which is in Escondido and the Ramona Valley AVA. There are more than 115 wineries throughout these three AVA's. The wineries are located in both urban and rural settings.
You will find ocean influences in a lot of the vineyards. Even thirty miles inland feels the effects of the ocean breeze. The climate is Mediterranean climate with little rainfall, some dessert wind and fog coming in off the ocean. Grapes can grow in the mountains at elevations up to 4,200 feet and the soil consists of granitic and chaparral. It's quite a complex area.
We were led through the 4 week tasting by Tami Wong CS and Tina Morey, founder of WineStudio, exploring six wineries. I have lots of notes on these wines. I was very impressed. I also learned a new term
Mataro.
Mataro is original name in the United States for the Mourvedre grape. Although not used much anymore, if you hear it, you will know the synonym for it.
Stehleon Vineyards & Vesper Vineyards
Alysha Stehly and he husband Chris Broomell began Vesper Vineyards about 10 years ago. At the same time her her parents Al and Lisa Stehly began Stehleon Vineyards as a custom crush at Vesper Vineyards.( Alysha is the winemaker for both.) It was after this that Al planted his own vineyard of Syrah, Sangio, Grenache Blanc and Malvasia Bianca. Most of the grapes for Stehleon come from that vineyard. Vesper sources grapes through out San Diego County.
Stehleon Vineyards 2015 Grenach Blanc, Sunrise Ranch, San Diego County
was grown in granite soil. It gave off wonderful aromas of lemon, lime and floral notes leading to a palate full of passion and tropical fruit. SRP $23
Vesper Vineyards 2013 Carignan McCormick Ranch, San Diego County
showed lots of black fruit, plum, black cherry and blackberry, anise and earth undertones SRP $25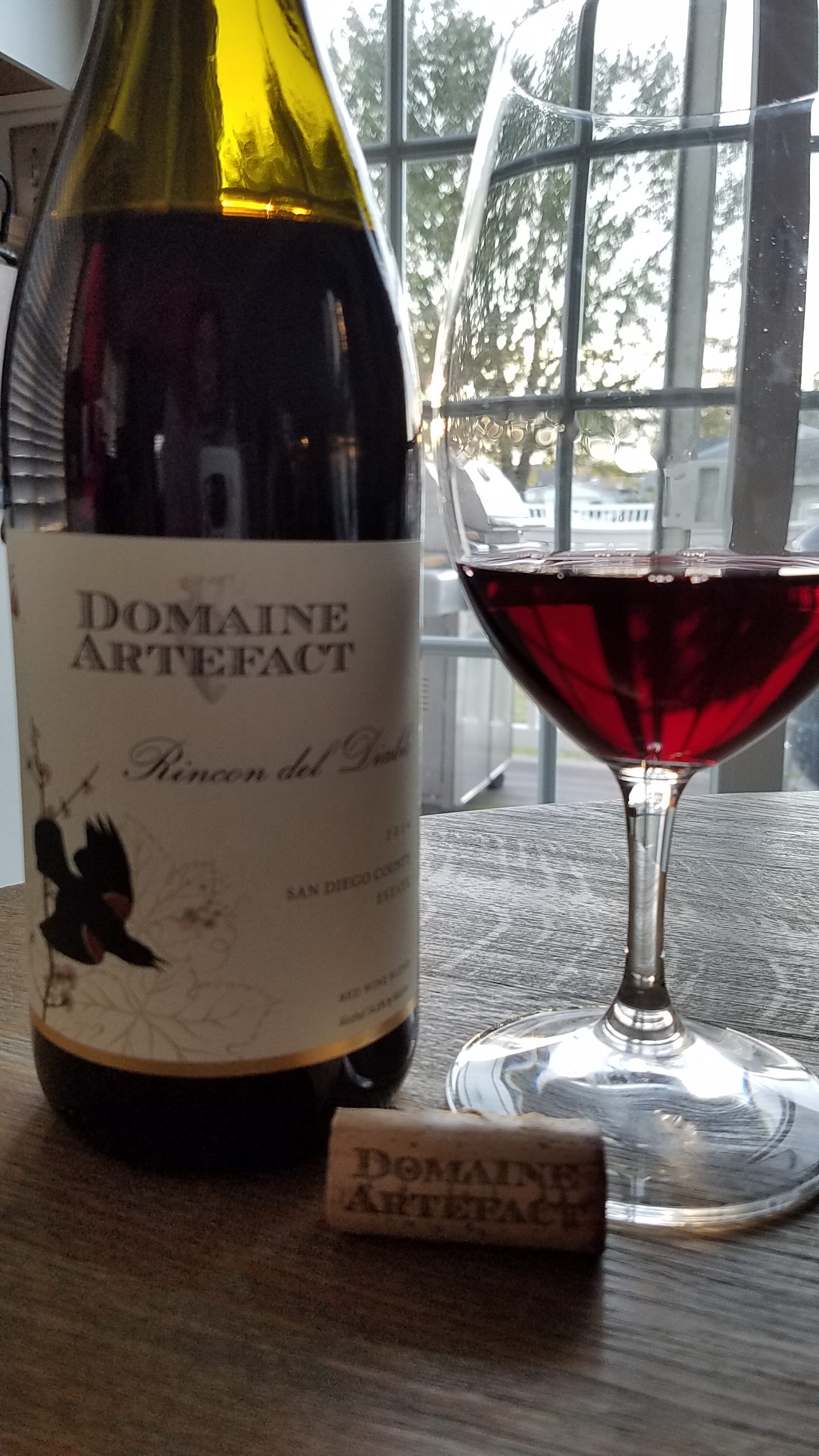 Located 45 minutes north and east from San Diego's center, Mark and Lynn purchased a parcel of land that was perfect for a boutique winery in the Highland Valley.
Domaine Artefact 2017 Les Printemps Grenache Ros
è
- Nice salmon in color with hints of minerality, red berry, nice acidity and finishes with a touch of strawberry. SRP $30
Domaine Aredact 2016 Estate Rincon del Diablo, San Diego County
is a blend of 57% Syrah, 26 Grenache, 17% Mourvedre. Lots of dark fruit notes with sweet tobacco with a strong black pepper finish accompanied by strong tannins. I paired this with smoked rib shepards pie and the meal softened the tannins and the smoke flavor softened the pepper finish. SRP $45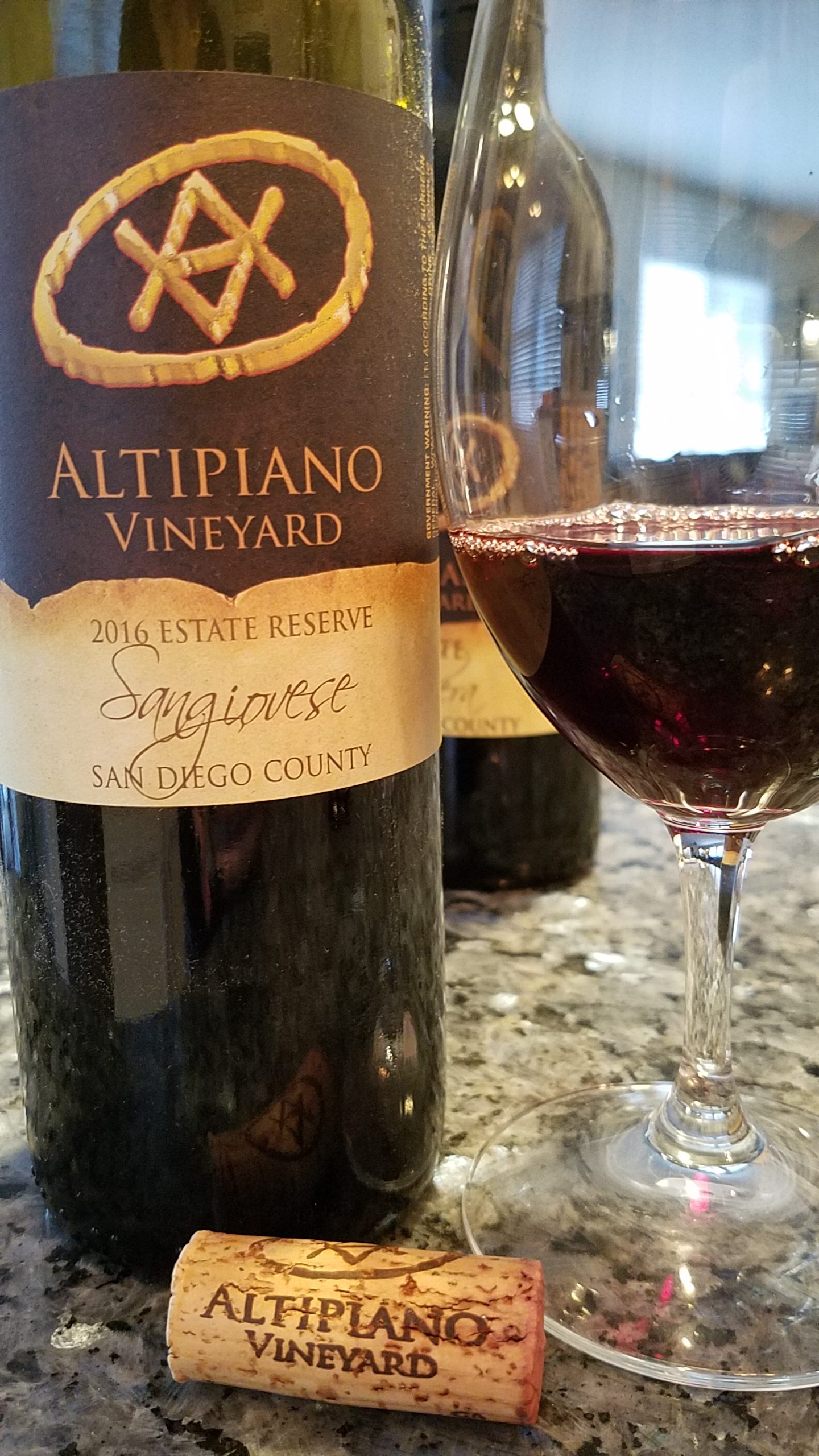 Altipiano Vineyard & Winery
Denise and Peter purchased their property in the Highland Valley in 1997. At the time it was a 30 year old avocado grove with 1100 trees in an agricultural preserve. A wild fire destroyed the avocado grove in 2007 and they replaced the trees with grape vines.
Altipiano Vineyard & Winery NV Estate Barbera, San Diego County
showed aromas of black cherry, anise and hints of cigar box lead to a palate with bright acidity, juicy sour cherry, black currant and cardamon. SRP $58
Altipiano Vineyard & Winery 2016 Sangiovese Reserve, San Diego County
- The first words out of Paul's mouth after his first sip of this wine was "whoever made this, did a good job." Garden spice, black cherry, black berry hints of oak and vanilla lead to a palate full of plum, tart cherry, anise and clove. SRP $65
An urban winery in the Miralini Makers District of San Diego began in 2007 as one of five urban wineries. (Today there are about 15) Their first harvest was in 2010 and they went "minimalist" in 2011 meaning, they want to let the natural character of the grape show through rather than trying to force it into a profile. They source their grapes only from San Diego County as they feel if they make wines from other regions it's like making other people's wine.
Charlie & Echo 2017 Viognier, Warner Springs, San Diego County
- It's not all the time that I taste a wine the second day. The bottle is usually finished the first go around, however, this one was around for day two. It's interesting how the wine can change, all for the good in this case. Day 1 showed aromas of lime and lemon zest with some hints of floral notes. Nice acidity with flavors of tropical fruit. Day 2 showed aromas of white flowers and white spice leading to a palate of lime, tropical fruit and green apple. This wine in known to evolve over a few days. SRP $23
Charlie & Echo 2017 Darkstar, Warner Springs, San Diego County
- This is sparkling blend of 47% Syrah and 53% Zinfandel. As the wine pours into the glass the escaping aromas of ripe blackberry hit you in a good way. Ripe blackberry leads to black raspberries, plum and hints of black currant. SRP $26
Darius and Lisa had two very high stress careers. After a life changing stroke for Darius at the age of 51 they combined their passion for wine and created Koi Zen Cellars. Their tag line is Uncork, Sip Back and Relax.
Koi Zen Cellars 2016 Paso Syrah
- Blueberry spice aromas get jammy as the wine opens. The palate emerges as blue fruit with nice black spice integrated throughout the finish. As the wine opens the palate begins to get silky with brambly layers of blueberry, blue and red fruit. SRP $33