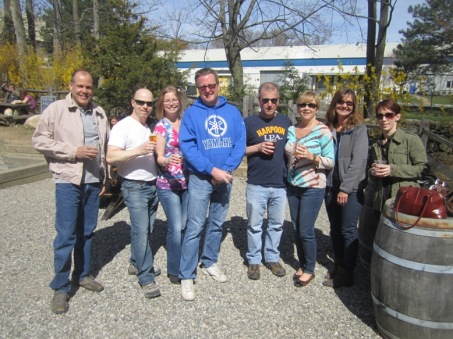 There are peculiar pairings, such as Lady Gaga and Tony Bennett, or, say, beer and yoga. And there are others that seem to go together nicely, such as J.J. Rogener, a student at New York Medical College in Valhalla, and Kinga Shudak, from the Bronx and, before that, Poland. They met online, and chose Captain Lawrence for the all important first face-to-face. "She said she likes to sit outside," says J.J., a regular in the tasting room. "I like to drink beer and I love Captain Lawrence."
The pair is sipping the Hop Commander IPA on the patio on a gorgeous weekend afternoon. A guitar-and-bass duo with the no-nonsense name "Bob & Norm" is strumming away. "I like beer," says Kinga, "so this is perfect."
Now, back to the beer and yoga. Captain Lawrence is hosting an event that brings the two together starting May 9, with Lauren Crowley of Westchester Yogini conducting the class, and the brewery guys pouring the samples. Kinga doesn't go for yoga—beer or not. "It's boring," she says. "I like to do something more active."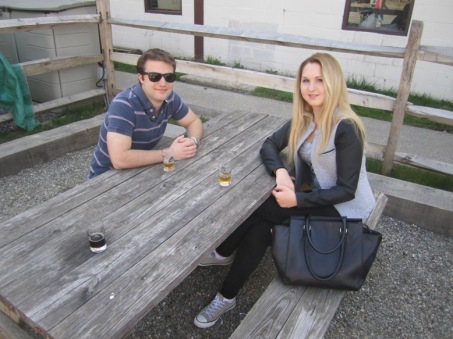 J.J. dabbled in yoga and pilates years back, he says, while diving competitively in college. "Let's put it this way," he says. "If I were ever to do yoga again, I'd do it in a brewery."
Kinga laughs. For what it's worth, she and J.J. seem to go well together. But no pressure, kids.
Across the patio, Kathy and Bruce Daniell of Bethel, Connecticut are a bit further along in their partnership. It's her birthday, and a sizeable party has made the trip to Captain Lawrence. "It was my husband's idea," says a grateful Kathy.
The jokes flow freely and the samples go down easily for the Connecticut cabal. Jennifer Fender ("like the guitar," she says) thinks beer and yoga might actually fly. "I think drinking beer makes you more flexible," she says. "Beer would definitely make yoga more interesting."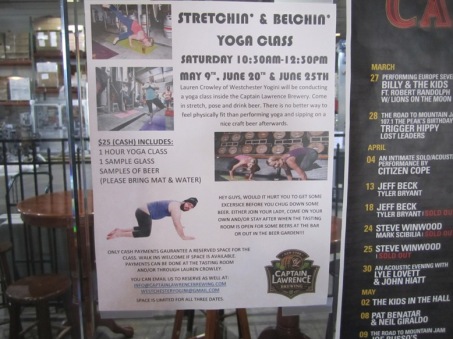 It is pointed out that the event is titled, somewhat indelicately, "Stretching & Belching." "You're good at both," quips her husband.
Rich Danise of Brookfield sips the Hop Commander and says he's working his way on up to the Seeking Alpha triple IPA, curious to see how the draft version may differ from what he's had in the bottle. "It's got a great mouth feel," he says of the hoppy monster. "It's surprisingly drinkable, considering the alcohol level." (That would be 11%, if you're scoring at home.)
Bruce asks for a photo (top) of the group to capture the sun-splashed moment. "This will be our Christmas card," he says.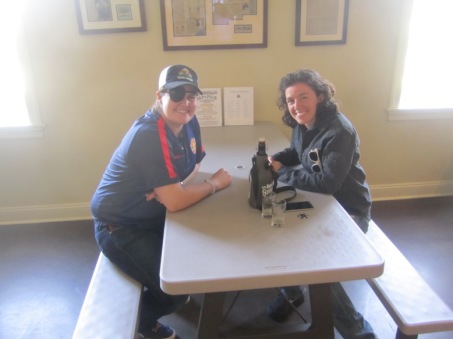 Despite the favorable weather, some have chosen a seat inside the tasting room. Like the Daniell party, Jenna Blakeslee and A.J. Johnson hail from Connecticut, where Jenna is a studio operator at ESPN. She rocks a Manchester United jersey; both are en route to Yankee Stadium for a New York Football Club match—but not before hitting a half dozen or so breweries, including Yonkers Brewing, Bronx Brewery and Gun Hill Brewery. Both are fans of the Brown Bird Ale at Captain Lawrence. "There's a little sweetness," says Jenna. "It's very direct, not too full of itself—there's something for everyone with that beer."
A.J. agrees. "It's a beer you can enjoy inside or outside," she adds.
Both ladies brew at home—their latest effort was an Oktoberfest concoction dubbed Unibrau. A.J. isn't going for the yoga and beer (Yogi Beera, anyone?); she prefers those wacky Beer Mile races. But Jenna isn't dismissing the quirky concept. "Drinking beer helps you relax, and so does yoga," she says. "I feel like they'd go well together."
Back outside, Bob & Norm have set down their instruments for a well deserved pizza from the Gleason's guys. It's the first CL visit for Ossining resident Norm Dodge ("like the automobile," he says). "I'd heard a lot about it and so far everything has lived up to expectations," Norm says. "I love the whole setting."
Could the setting work for people doing planks and downward dogs while sipping craft brew? Norm smiles. "I've heard of hot yoga," he says. "Why not hops yoga?"
—Michael Malone (malone5a@yahoo.com)
Captain Lawrence Brewing, at 444 Saw Mill River Road in Elmsford, is open Wednesday through Friday (4-8 p.m.), Saturday (12-6 p.m.) and Sunday (12-5). The author is paid by Captain Lawrence, partially in India Pale Ale.